RICOH 6th Generation Print Head
A minimized 5PL droplet size and improved jetting accuracy yields excellent print quality without graininess.
Single-pass 600dpi high-resolution printing and support for multiple ink colors
RICOH 6th Generation Print Head
The new generation model of the Japanese company RICOH Ltd. Maximum frequency of 50kHz, allowing High Precision and High Speed
Up to 720×600 DPI 4pass 645 ft² / h (60 m² / h)
RICOH 5th Generation Printer Head
Has 1280 sprinklers divided in four rows, support up to 2 Colors.
Standard Resolution 600DPI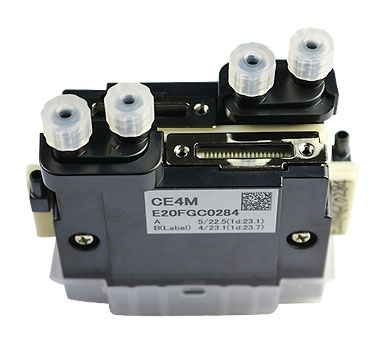 Toshiba CE4 High Performance Printer Head
Ideal for long working hours, up to 24 hours of continuous operation
Standard Resolution 600DPI
The instant drying of UV inks, allows a relief effect by printing up to 8 layers, obtaining extraordinary results.
Preservation of the environment is a plus in UV technology, since it doesn't produce volatile organic compounds VOCs.